Do your feet also often get fed up during a long walk? It's time to bet on comfort and style in one. Together with SneakersJoint this is not a problem, we will help you choose the right shoes so that your foot does not feel discomfort during a long day on your feet.
Some of the most comfortable shoes are those designed for running, their soles are properly adapted to long distances but also often made of materials that adapt to the pressure of the foot on the sole.
What to pay attention to when buying shoes?
The nose of the shoe – let it be large enough for the toes to move freely.
The upper – its back part should cushion the heel, which should feel safe and stable.
Insole – it must provide cushioning and comfort.
Midsole – created with materials that will conform to your foot and remember its shape for better cushioning.
Outsole – is responsible for traction with the ground, the one with splines will be good for trails, and flat will be ideal for roads.
Yeezy Boost 350
The first suggestion will be the adidas model YEEZY BOOST 350, that feature the innovative BOOST foam, which gives the sole enough bounce so that the foot will be comfortable all day long.
In addition, the shoes are constructed like a sock by which they adapt to the shape of our leg, and the Primeknit material, from which they are made is light and airy so the foot in them will not sweat, as is often the case with other, much thicker models.
In addition, these shoes are famous for their endless color schemes, so you are sure to choose a color that blends perfectly with your closet. Check out the available colors of the modelYeezy Boost 350.

The model from New Balance is not only comfortable and lightweight but also stylish, and has been conquering social media with its design for several seasons. Influencers and popular celebrities such as Kendall Jenner and Hailey Bieber have promoted these shoes to the point that they are missing from store shelves as well as online stores.
Unisex shoes for her and him from the 530 series are a running classic from the late 90′s. The shoe's upper is made of mesh panels, which make the shoe's skeleton airy and lightweight. Walking in these sneakers, especially on warm days, will be pure pleasure.
Some elements are made of high-quality leather, which gives the shoes the right shape and chicness.
The New Balance 530 also takes care of our safety, as it has reflective elements made of synthetic material, which will be great for evening walks, making us more visible on the road. The whole thing is maintained with old-school aesthetics and style of the 90′s.

Nike Dunk Low
DUNK sneakers are one of the most popular models from Nike. The so-called "dunks" have a huge range of colors so you are sure to find your favorite.
This cut is characterized by the extreme lightness of the footwear, so the leg will not be burdened when walking. The leather upper will be ideal for rainy weather, because the coating makes the shoes not wet, but also easy to clean from dirt.

What about comfort during long walks?
Nike thought of this and equipped the DUNK LOW model with a soft eva foam insole, which is very flexible and retains its shape and properties at different temperatures, so we don't have to worry about damaging the shoes in changing weather conditions, they are year-round.
The rubber outsole provides good grip and cushions falls for safe walking.
Proper fit of sneakers
Now that you know what shoes will be best for walking, you also need to know how to fit them well, so here we go.
First, Don't believe the shoes will come apart, the shoes should be comfortable already when trying them on, so keep looking until you choose the right size.
Also, don't worry if your foot moves gently, as your legs may swell a little when walking all day. Better as well as healthier for the foot will be a soft space than too tight sneakers.
Remember to carefully measure your foot before buying online, and always add 0.5 cm of extra space. You can find a guide on this topic here (link to the blog "how to choose the right size?"). If one foot is smaller than the other, choose the size that corresponds to the larger foot.
How long should one walk in sneakers?
The Mayo Clinic's footwear usage study shows that we should replace shoes after walking about 500-650 kilometers.
Thus, walking 30 minutes a day such a pair will last us for a period of six months. If you are unable to calculate how much you walk in a particular pair of shoes, look at the signs of wear. As long as the tread on the outsole is not worn down or the shoes do not tilt from side to side, this is a sign that the sneakers are still wearable.
All walking shoes eventually show signs of wear and tear. Even if they still feel comfortable and do not show much external wear, they may not provide enough support or cushioning for the foot.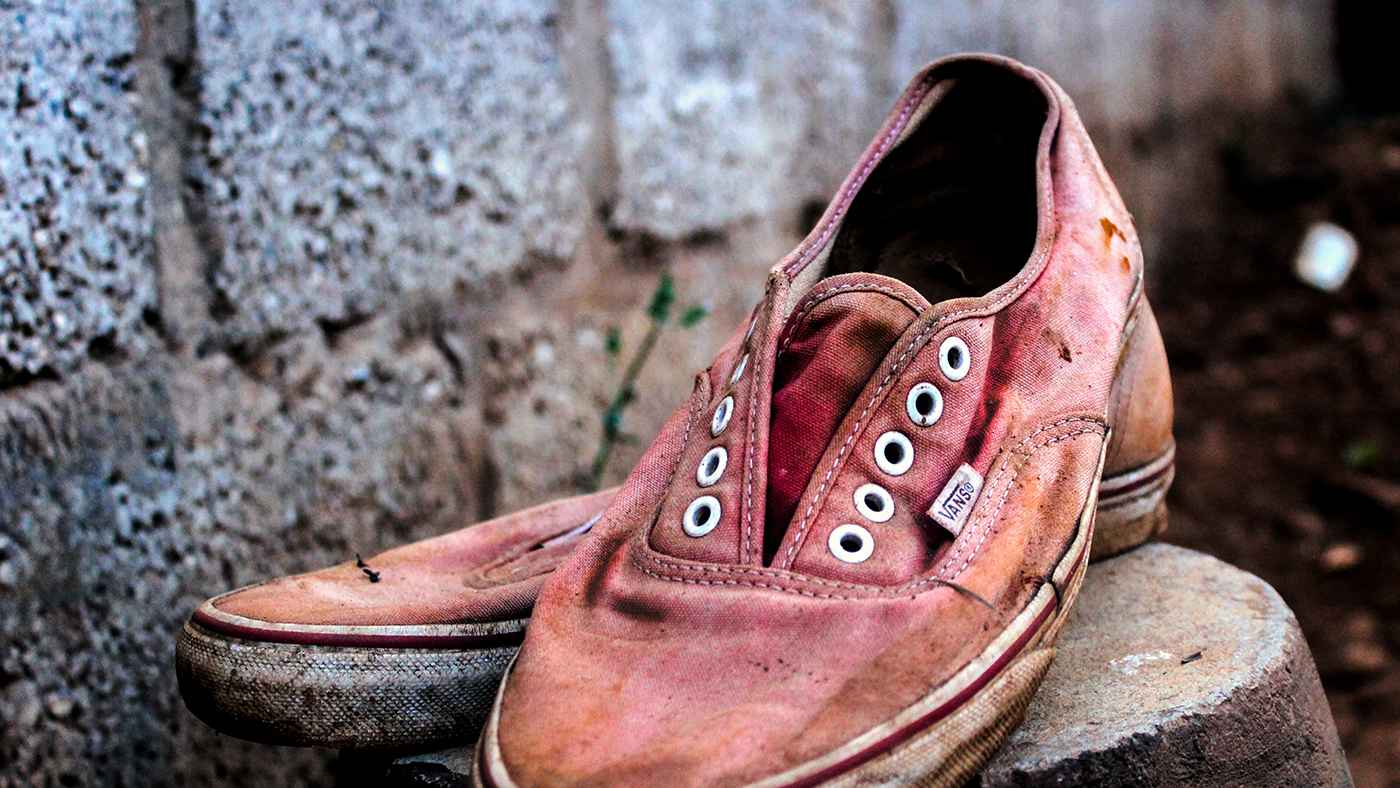 Change your shoes when:
The sole is worn out.

You have covered about 650 kilometers of running or walking in your current pair.

Even if the shoes look good, most lose their impact protection after about 650 kilometers. Put a marker on your calendar when you reach the maximum mileage of your shoes to remind yourself to replace them and keep track of how long it usually takes you to cover 650 kilometers.
Wearing comfortable and well-fitting walking shoes can help prevent injuries such as blisters and abrasions, and protect against diseases such as flat feet.
Walking shoes should also be fairly lightweight and provide good cushioning. But not all walking shoes are created equal. Find the right sneakers for you, ones you feel comfortable and safe in.
Feet come in different shapes and sizes. To avoid painful problems, consider the shape and size of your feet when buying walking shoes. Remember that your shoes should fit the shape of your feet, not the other way around. Your feet should never have to adjust to the shape of a new pair of shoes.